A Cozy Christmas Morning - Our Christmas Traditions
Christmas starts soon after Thanksgiving for our family as we decorate the tree and get out all of the decorations that have been collected over the years. There are so many special ornaments that were made by our girls and I love to hang them on the tree year after year. We also have a huge collection of Christopher Radko ornaments that make the tree sparkle! All three girls get a new one every year and the collection just keeps growing!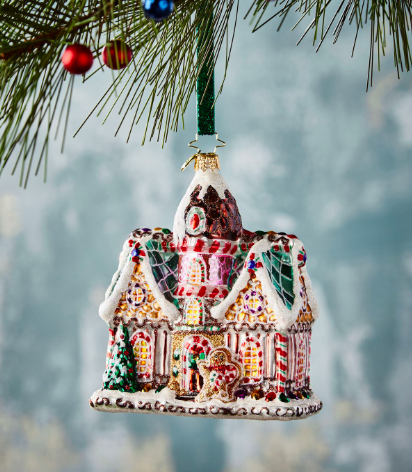 Gingerbread House Ornament
I'm a little behind on my shopping this year, but this morning we woke up to about a foot of snow, so I'll shop online today and hopefully knock it out! I'll have lots of wrapping to do after everything gets delivered! I love to wrap the presents in an assortment of pretty paper so there are lots of bright colors under the tree! When I'm wrapping presents, I always sit in front of the fire and watch Christmas movies. My favorite is the old version of Miracle on 34th Street!
Christmas Morning is one of my favorite days of the year and I like to be in cozy and comfy loungewear or sleepwear all day watching classic movies and having the best breakfast complete with mimosas!
Christmas Morning
Our Christmas morning actually starts on Christmas Eve because everyone gets a new pair of pajamas to wear the next morning! I try to be organized but sometimes I get the boxes mixed up and one of the girls opens the wrong thing! We all laugh and they make fun of me, but it's always a fun tradition! There are so many great pajamas to choose from but I like pj's that are warm and cozy. Check out this post for more great Christmas pajamas!
J Crew Candy Cane Dreamy Pajamas
Perfect for a lazy Christmas morning!
We all have our family traditions for Christmas morning! At our house, we wake up early, turn on the Christmas lights and music, make coffee and mimosas and then head into the living room to open presents and see what Santa left in our stockings! When our girls were younger, Santa left the gifts set out on display and they would always look at what Santa brought first! Lauren will bring the babies on the day after Christmas this year, and we'll continue the tradition for them…just a day late! I like the idea of extending Christmas!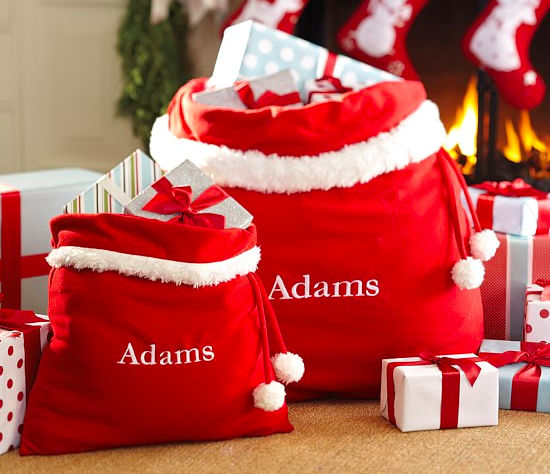 I love the idea of having a Santa bag for each of my grandsons!
Christmas morning is a lazy morning for us and it's so nice to have lots of blankets and throws out to snuggle up with!
This year will be a little different because our youngest daughter Sarah and her husband won't be here. He is in the Army and is being deployed to Syria shortly after Christmas. I'm really sad about, but I will send their gifts there so they have them to open. I won't see her until January 8th when I'm going to help her move. Hopefully, this will never happen again because it's breaking my heart for her (and for me)!
I don't want to leave on a sad note, so I'll tell you another funny Christmas tradition. I always always forget some of the gifts and as the months go by, I find them stuck in closets and just have to laugh at myself. It's hard to stay organized and as the family grows, I think it will get even harder! I'm not sure if you could call that a tradition, but it happens every year!
Look no further for the perfect gifts…shop my Crazy Blonde Holiday Shop for gifts for everyone on your list!
I'm including this boutique to make your shopping easier! Thanks so much for reading today…stay warm if you're in the snowstorm!