Box of Style By Rachel Zoe - Luxury in a Beautiful Box
"Spring is my favorite time for a style refresh. A few breezy essentials make it so simple to elevate everything from blazers and boots to feminine dresses to jeans and a T-shirt. So incorporate a little glamour into your look this season—I promise it's never been easier!" –– Rachel Z
Hi Everyone! I'm so excited to be teaming up with Rachel Zoe to tell you about Box of Style Spring 2019 Edition! Box of style is a luxury subscription box curated by designer and editor, Rachel Zoe! Every season, Rachel selects 5 style finds valued at over $400 for just $99 and those items are shipped directly to your door. Box of Style is the number one luxury subscription box available. The Box of Style Spring 2019 Edition features $515 worth of this season's most coveted fashion, beauty and lifestyle items, including statement pieces that can be layered and styled so many different ways. This is the perfect gift to give yourself or someone special. I know that my daughters would love to receive an annual subscription and look forward to getting a box of luxurious goodies each season! Members of Box of Style also get exclusive access to the Box of Style Boutique. The Boutique is expertly curated (of course) with the best pieces at special prices. It features beauty, home and entertaining, jewelry, clothing and accessories. You can choose to be a seasonal subscriber or you can upgrade to an annual subscription. If you choose to upgrade, you can receive an Amazon Echo Look (while supplies last)! Amazon Echo Look is a hands-free camera and style assistant that takes full length photos and six-second videos that you view directly on the Echo Look app.
The best part is that you can get $25 off your first box using Promo Code: SUZANNE25!
Subscription Options
Subscription options include: yearly (billed once) or quarterly billing (pay as you go).
1 box : $99.99 / quarter
Annual (1 box each quarter) $399.99 $349.99 / year
Subscribe Here and use code SUZANNE25 to receive $25 off your first box!
The Box of Style Spring 2019 Selections Include:
A beautiful Chan Luu Silk Scarf in either floral or leopard
The Chan Luu scarf is 100% silk and valued at $125. Chan Luu began making jewelry as a young girl, stringing together shells collected on the beaches of her hometown of Nha Trang, Vietnam. Two decades later, after forging a career in fashion as a buyer and retailer, she founded her namesake brand, making her first pieces of jewelry from her tiny garage in Los Angeles. The print is an exclusive Rachel Zoe Collection print, reinterpreted by Chan Luu.
"Nothing provides more styling options than a printed silk scarf. Tie it around your neck, head, waist, wrist or purse for an instant pop of color and of course glamour." xo RZ
Styling Tip - Knot the scarf at the neck to add a French flair to any look. Roll it into a headscarf or cinch it around the base of your ponytail, or my favorite way…wrap around your wrist or purse for a chic touch.
Michelle Campbell Talon Bracelet Set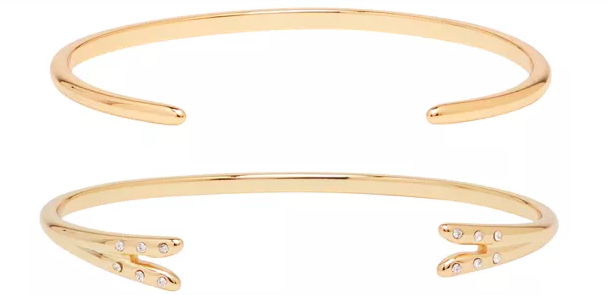 Michelle Campbell Talon Bracelet Set
These dainty Michelle Campbell gold bangles can be worn separately or as a pair and make a beautiful daytime look. Layer them with other pieces for evening. They are made of gold plated brass with white pave stones.
Tribe Alive Leather Clutch - Exclusive
This sleek Tribe Alive Leather Leather Clutch retails for $78 and is made from genuine leather and is ideal for holding all of your essentials. It's large enough to hold a cell phone, small wallet and of course lipstick. Keep it inside your larger work bag and then use it as a clutch for appointments. It also looks great inside of a trendy PVC clear bag.
Another reason to love this Tribe Alive Leather Clutch is that it's designed by women and made by women. "Tribe Alive partners with female artisans around the world to employ at-risk women at living wages. Their Studios create safe work environments, dependable income and empower women to determine their own futures."
Edible Beauty Gold Rush Eye Balm
I have a slight obsession with eye creams, because I want to keep the delicate skin around my eyes as moisturized as much as possible. Edible Beauty Gold Rush Eye Balm is the Gold Standard in eye cream (literally…it contains gold leaf) and retails for $65,. It is ideal for all skin types and assists in reducing puffiness while smoothing and rejuvenating the eye area.
Lightly pat onto your under-eye area using your ring finger. Gold leaf improves radiance and circulation, while coffee and cucumber extracts reduce puffiness and inflammation.
Skin Gym Rose Quartz Heart Gua Sha
The Rose Quartz Heart Gua Sha Retails for $32 and takes skincare "one step further than the jade roller. This massage tool boosts circulation and fits into your makeup bag. Keep it on hand for long flights or for a midday pick-me-up. Regular use drains puffiness and toxins while contouring and smoothing fine lines. It's a natural way to sculpt your face and also relieves jaw tension.
The Rose Quartz Heart Gua Sha can be used with your favorite serum or oil. Store it in the freezer or refrigerator for a refreshing kick in the morning.
Thank you so much to Rachel Zoe for sponsoring this post! I love my Spring Box of Style and cannot wait to see what's in the Summer Box of Style! Have a great weekend!