9 Things to Inspire and Delight!
Happy Monday Morning! As I sit here at my computer after some serious Easter Sunday reflection, I'm feeling so grateful that my life has come a long way since last year this time. Spring is a time for new beginnings and I can say without hesitation that Life is Good and I'm excited about what's to come. Things are hectic and so busy and I'm loving every minute of it! Grab a cup of coffee and enjoy this post…it's full of ideas to inspire, get you organized and healthy!
Get Inspired
I love to share things that inspire me and make me want to be the best person I can be. The following is an excerpt from a website called Medium. I get a daily email from Medium and it is always "just what I need" for the day. Read the full article here. This is one that I'll be printing and taping to my computer screen…I always say, just one small step in the right direction every day!
"Honing your skill one day at a time, reading just five pages of a great book, choosing to eat 100 calories less, working out for just 10 minutes a day, taking a few minutes walk daily, meditating for five minutes in the morning, drinking a glass of water when you wake up, getting up half an hour earlier to work on your passion project, expressing appreciation, starting a journal, saving a few dollars every month, and investing in your personal development even if it's just a few minutes everyday, pays in the long-term."
Kombucha
Update Your Basics
A white is one of the most basic closet essential and can be the foundation of so many outfits! Wear it with white jeans and your favorite spring jacket for a go-anywhere outfit. Here are 3 of my favorites!
Add a Little Color to Your Shoe Wardrobe
These adorable shoes from Ann Taylor come in 3 different (I love the light blue) colors and will definitely dress up your jeans and white tee outfit!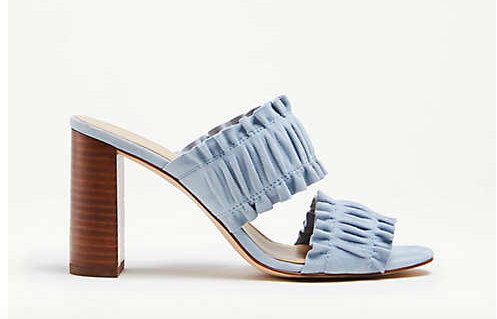 Hartley Suede Heeled Sandals
Get Excited About Upcoming Movie Releases
I am so excited to see 2 new movies…Amazing Grace and Wine Country
I just found out about Amazing Grace which is a documentary that shares footage and details of the amazingly talented Aretha Franklin performing "Amazing Grace" at New Bethel Baptist Church in Watts, Loss Angeles in 1972.
This film has just been released because Franklin didn't want it to be released while she was alive. It is controversial in that way, however it has already gotten praise from critics. The film is being released in select cities now and will be widely released in May. If you are an Aretha Franklin fan (who isn't?), you'll definitely want to see this!
Although very different from Amazing Grace, I am also dying to see Wine Country…Amy Poehler's new film that comes out in May. It will certainly be a fun movie, set in the most beautiful locales.
Celebrate Earth Day Today!
In celebration of Earth Day, you'll enjoy this article from about 22 Favorite Sustainable Fashion Brands. Also, read my post about a great company that makes eco friendly shoes!
One of my favorite sustainable clothing companies is Reformation. They are a carbon neutral clothing company that is making a real difference!
"We put sustainability at the center of everything we do. It is an evolving goal and definition, and we don't have all the answers. But we want to focus on efforts that have the biggest impact. It influences four main areas: Product, People, Planet and Progress."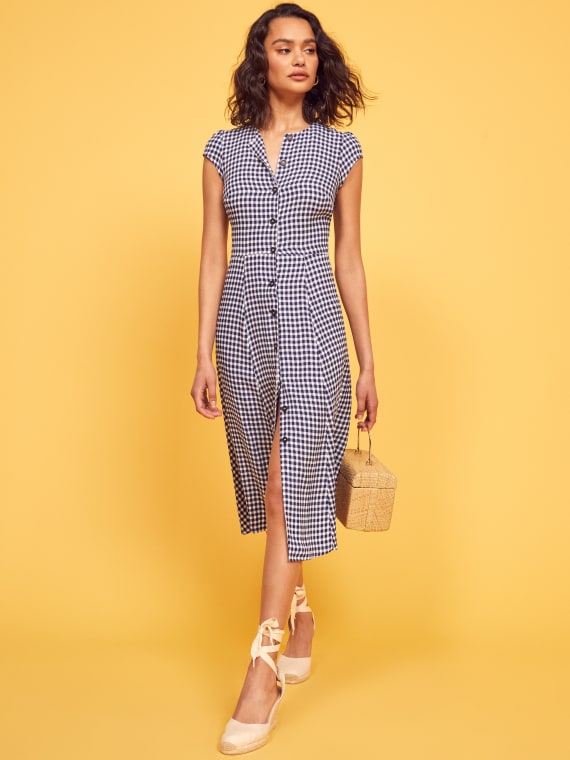 Try Meatless Monday's and Start with This Recipe
Roasted Cauliflower & Chickpeas with Dijon Vinaigrette from The Wheatless Kitchen
Get Organized Once and For All
You'll love this article from Southern Living - 31 Days To a Clutter Free Home. No matter how chaotic your home is, this guide will help you declutter. It's do-able steps that will keep you from feeling overwhelmed and easily organize your home!
Ms. Myers makes affordable eco friendly products that will make cleaning a pleasure (almost)! Try the Lilac or Peony, both made with essential oils!
Mrs Myers All Purpose Spray
Make a Crudité Platter with seasonal produce!
The Farmer's Market is full of delicious and beautiful seasonal produce. A crudité platter is a great way to impress your guests without spending all day in the kitchen. Check out this recipe for Greek Avocado and Herb Dip from The Barefoot Contessa. You'll also love Ina Garten's new cookbook,, Cook Like a Pro!

If you're looking for a little fashion inspiration, watch my new YouTube Video!
I've had so many people ask about how to order the products in this video, so I thought I would post one more time! Just click on the video, scroll down to the description box and click on See More. You'll see a list of products with links to purchase. I've included exact items when possible and similar when the item is something I've had in my closet for a while!
Also, for great Spring shopping ideas, visit the Sprig Edit section of Crazy Blonde Life!
Thanks so much for reading and have a great week!