2 Outfits to Transition Into Fall Featuring Chinese Laundry Shoes
If you ask me, there is no such thing as too many pairs of shoes! I'm always on the lookout for something new and different, and I also love my tried and true, wear with everything shoes. Every season, but especially in the Fall, I love to add a few new items to my closet to refresh my wardrobe and add some excitement for the new season. Now is the best time to treat yourself to a new pair of Chinese Laundry shoes because I'm offering a promo code!
USE CODE SUZANNE 20 AT CHECKOUT TO RECEIVE 20% OFF YOUR PURCHASE!
I'm wearing two pairs of new shoes from Chinese Laundry in this post along with outfits entirely from Loft. If you've been reading Crazy Blonde Life for a while or watched my YouTube channel, you know that I'm a big fan of Chinese Laundry mules. I have three pairs, tan suede, pink and these fabulous snakeskin ones. I wear them so often with everything from jeans to shorts. I consider these snakeskin mules neutral and don't hesitate to wear them with florals as I have here or other animal prints. The jeans I'm wearing from Loft are high waisted and fit me so well that I'm considering going back and getting another pair because I'm positive that I'll wear these out before too long. The top is a floral wrap top that's the perfect transitional piece because it's pistachio, which is a huge trending color for fall. Outfits like this are easy to throw on, but interesting because of the pattern mixing. All of these items are reasonably priced and so versatile…I would also wear this top with white jeans.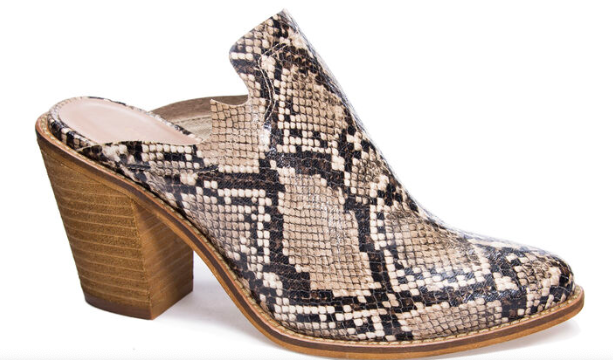 Chinese Laundry Snakeskin Mule
I can't say enough about this pair of black suede platforms (they come in 4 colors) from Chinese Laundry. I've worn them to dinner with a dress and thrown them on with jeans and a tee. They dress up just about anything and are so comfortable. I find that a platform is easy to walk in and I really like the way they look with jeans. While I love my designer jeans, I've found that the jeans at Loft fit me so well at a fraction of the price and I always find a cute top (like this leopard one - now 40% off) while I'm there.
My necklace and bracelets are by Julie Miles, they're pearls that go with everything! My necklace has a boho vibe that I love with this outfit! You can see more of her fabulous designs at Juliemiles.com!
BE SURE TO CHECK OUT MY AMAZON SHOP FOR ALL MY FAVORITE THINGS THAT YOU NEED NOW!