Hot Weather Outfit Idea for September (It's Still Hot as Hell Here)!
A little Friday inspiration…
Give yourself permission to live a big life. Step into who you are meant to be. Stop playing small. You're meant for greater things.
It seems that the only thing I talk about lately is how hot it is outside! I've been excitedly watching all the fashion shows from NYFW and longing for cooler weather, but it's just not happening! Yesterday, it was 97 degrees here and so very humid so I put on a pair of espadrilles from Chinese Laundry with my white jeans and black Michael Stars tank. I was still hot, but it was a good outfit to wear out to dinner. I'm loving these espadrilles because they are denim and they go with everything! They also come in cognac and run true to size.
My handbag by Marc Jacobs is one I've had for several years and for some reason I don't carry it often. It's navy but the strap is black so it really goes with a lot and it's huge!
I always wear my Julie Miles pearl bracelets and I'm wearing a cross necklace by Julie today as well! I love Julie's jewelry because it goes with casual outfits and you can totally dress it up as I did here!
USE CODE SUZANNE20 TO GET 20% OFF CHINESE LAUNDRY SHOES!
Dear Mother Nature…Can you please check the thermostat, someone has set it to hell!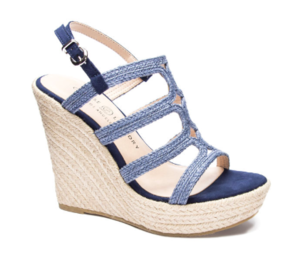 Chinese Laundry Espadrilles
Use Code SUZANNE20 at checkout to get 20% off!
What are you wearing to beat the heat?
For more fall fashion ideas to wear right now…be sure to watch my latest YouTube video. Also follow me in the LIketoKnow.it App for links to items that aren't on Crazy Blonde Life or Instagram! I've also been filling my Pinterest Boards with all things fall so be sure to check them out!
Have a great weekend!