How to Take A Basic Outfit and Make it More Interesting + An Inspiring Thought
How can life get better? Don't limit yourself by thinking limiting thoughts or holding limiting beliefs. Thoughts can act like chains, weighing you down and tying you to the ground, but they can also be like wings, letting you soar far and above. It's your choice what thoughts to think. Always remember that a better life starts in your mind.
You may not be always able to change your circumstances and the world around you, but you can change your inner mental world, and that's where it starts! When your inner world changes, your outer world starts to reflect those changes! Take some time every day to hold a vision of what you want and don't forget to be grateful for what you have and find peace in the here and now!
I'm feeling all the fall vibes, but the weather just isn't agreeing with me! I love a good basic sweater and the ones from Vince are probably my favorite. They're beautiful and the quality is amazing! I jazzed up this sweater with fun booties from Chinese Laundry booties and a scarf belt from Cabi. I always wear a stack of bracelets on my arms and always include my pearls from Julie Miles. I think it makes my outfits just a little more interesting! I'm completely obsessed with my Tezza sunglasses and they'll go with everything this fall! This outfit went from basic and boring to fun and different with the addition of a couple of accessories! I'm going to be using this scarf idea often!
USE CODE SUZANNE20 TO GET 20% OFF YOUR CHINESE LAUNDRY PURCHASE!
These pictures were taken on the side of one of my favorite houses in Burlington! It's the only other house besides mine that I would want to live in. I believe it was built in the Greek Revival Architecture style with a fabulous wrap around front porch and large columns! I fantasize about the ways I would decorate it!
Everyone needs a new pair of booties to start off the fall season! I'm loving these from Chinese Laundry for warmer weather because of the cutout on the side… AND they're just so cute with the studs! Another little detail for an otherwise very basic outfit!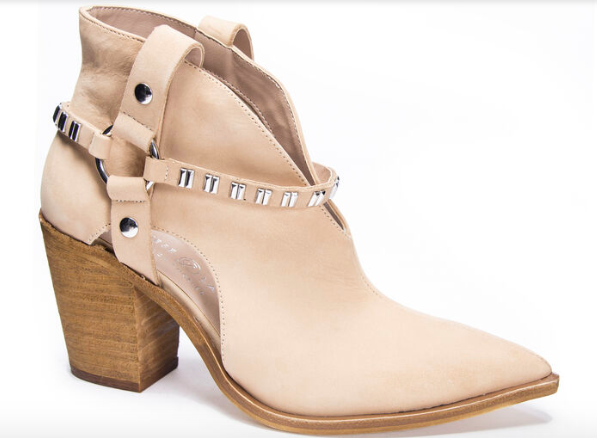 Chinese Laundry Tabby Bootie
Use Code SUZANNE20 For 20% off! - $110
As the weather starts to get cooler, our thoughts turn to the holiday season…I know it seems like it's far far off, but in reality, it's right around the corner. Here at Crazy Blonde Life, we are so excited about the holiday issue of Blondie, by Crazy Blonde Life! It will be filled to the brim with decorating ideas, recipes for your holiday parties, interviews with inspiring women, a few surprises and as always, a skincare column and our Ask Rebecca column! Subscribe now and you'll immediately receive the Spring issue, the Summer Issue and my new ebook, Recipes for Healthy Eating!
Thank you to Chinese Laundry for sponsoring this post!
Be sure to follow me on Instagram, Pinterest, Facebook and YouTube (Don't miss my new video!)