How to Wear the Sneaker Trend for Summer
Trends come and go! Some I love and some I just can't seem to embrace…so it has been with the sneaker trend. Don't get me started on shoes that make my feet look two sizes bigger than they are and $500 dollar sneakers that look as if they are already worn out! I just haven't seen any that I like! I did purchase a pair of black Tretorn sneakers to wear with my Spanx leggings, but that's more of an athleisure look…as if maybe I have been working out or at the least thinking about working out. AND I will probably never wear a pair of sneakers with a dress because I don't live in a big city where I have to walk everywhere, so I don't have to be practical. There are just too many cute options for dresses.
As I've said, my daughter Sarah is working at Tory Burch in Nashville and I've been looking more closely at the Tory Burch website because of that. The other day I spotted a pair of sneakers that I actually really liked! Leave it to Tory Burch to change my mind. The colors are like sherbet (pink and orange) and the design is very cute. I immediately called her and ordered a pair! When they came, I wasn't disappointed…they really are cute and comfortable. I haven't played around too much with styling them yet, but I threw them on with a white tee and light wash jeans for this shoot and I really like the look . I can also see them with shorts or a romper. Either way, I'm finally on board with the sneaker trend…better late than never!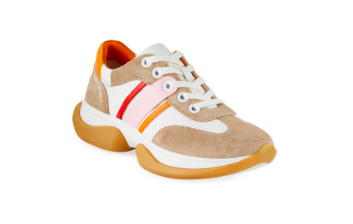 Tory Burch Bubble Sneakers
The first of my new quarterly magazine, Blondie, by Crazy Blonde Life is available for download now! This first issue celebrates 6 incredible and diverse women who have started businesses and built them from the ground up. They are sharing their stories and I promise, you will be inspired and delighted! Click here to download!