Two Cabi Tops, Two Tory Burch Bags, Styled with White Jeans
Well, it's very hard to believe that it's already May 29! This May has been a totally "crazy" month for me. I month of unexpected events that I would rather have done without, but thankfully nearing the end of a situation that for sure is supposed to teach me something. I've always said that I wanted to live to be over 100 and maybe this is my body's way of telling me that if that's truly what I want…some changes need to be made. Before my appendectomy and the events that followed, I had fallen into some bad habits with my diet and also lack of exercise. I was telling myself every day that I didn't have time because I was building a business and that had to come first. What I've learned is that I have to put myself first and everything else will follow! As I said in a previous post, I bought a new book called The Longevity Paradox and I've been reading it nonstop. I'm learning so much about nutrition (some of it I already knew) and I'm making major changes in the way I eat and making exercise and meditation a priority. Today is the last day on my antibiotic (thank God!) and so tomorrow, I start with intermittent fasting and eating seasonally from the farmer's market. I've ordered all kinds of lettuce, kale, radishes, fresh eggs, and squash!
I have so many new ideas and feel like this is a fresh start for me. I'll be sharing my recipes, more about the importance of intermittent fasting and why it's good to let our digestive systems rest. I'll also be sharing meditation tips and everything else on this new journey I'm on! Never fear, if you really only like to read about fashion, because that's one thing I never tire of and there will be plenty of that! One thing I'm sure about is that my clothes will fit better and my body will feel and look better if I'm feeding it properly and honoring it's needs. That's the priority and everything else will fall into place.
Every season, I love to see the new Cabi Clothing, and this season is no exception. I ordered a few pieces and the two blouses featured in this post are my favorites. They are both sheer (which is such a big trend) with long statement sleeves. I am cold so often in the summer when going out to dinner or other events because the air conditioning is blasting, so the long sleeves are perfect. Both of these tops will take me right into fall with the addition of a jacket and some booties! For now, I styled both with white jeans because they are a summer staple for me.
My daughter Sarah is working at Tory Burch in Nashville and is great about letting me know when things are on sale (hopefully I won't get into too much trouble)! She sent me these two bags and they are perfect with the blouses. I had been looking for some distinctly summery bags so these really fit the bill. I'll be using the tote as a beach bag very soon, but was thrilled with how well the navy went with my blouse! Keep scrolling for links to the blouses and a boutique with jeans, other bags and more!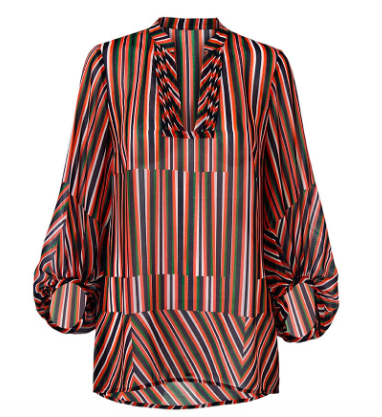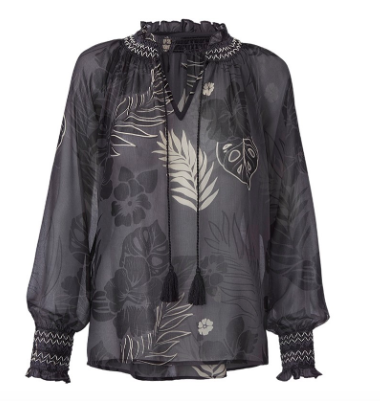 I hope that by now, you've had a chance to download my new magazine, Blondie, by Crazy Blonde Life. It's packed with inspiration, fashion, food and more. I'm hard at work on the next issue, which will come out on August 1, so subscribe now and don't miss an issue! Also, be sure to follow me on Pinterest as I'm pinning ideas for everything summer including entertaining, fashion and seasonal food! Also, if you're not already following me on Instagram, please take a minute and click the follow button! I'm about to hit 20,000 followers and it would mean the world to me!
Thanks so much for reading! Happy Wednesday!